New Ford Explorer SUVs in Kailua, HI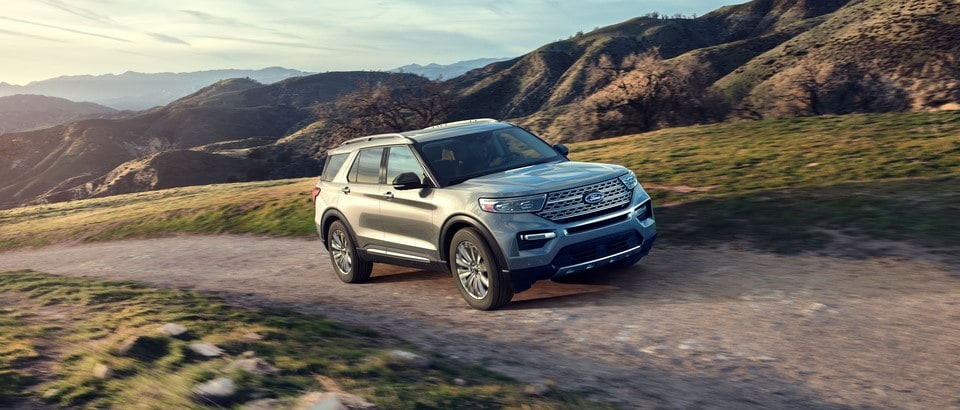 The New Ford Explorer: A Vehicle for All Drivers Around Honolulu
The Ford Explorer has been on the road for decades. This new Ford SUV has been a staple of the lineup of new Ford vehicles, and is one of the most famous American highways today. With an updated exterior look, it's no wonder that this vehicle is so popular among drivers. It can be used in all sorts of situations, including a family car or off-road exploration vehicle.
Trim Levels
The Ford Explorer is available in a variety of trim levels. Several styles are also available for the vehicle, including the base model, Limited, Sport, and Sport Trac (a pickup truck variation). The highest performance version of this car is the Sport.
Performance
This vehicle gets up to 21 mpg in the city and 28 on highways near Pearl City. This is more than enough for a midsize SUV, even with the considerable power of this car. The Explorer Sport provides you with 320 horsepower and 270 lb-ft of torque. It has the same basic specs as the larger F-150 pickup trucks minus a few minor features.
Technology
This vehicle comes with a solid array of technology features as well. Among them are an eight-speaker stereo system, satellite radio, and Ford's Sync connectivity technology. With Sync selected, you can access your smartphone through the car. You can make calls and texts as well as have your directions read aloud to you. This feature makes it easier to keep your eyes on the road, which is safer for you and others on the road.
Safety Features
The vehicle comes with state-of-the-art safety features as well, including a rearview camera that can assist you in staying within your lane of traffic when parking or backing up. It also has blind-spot monitoring, as well as a lane keep assist feature. The Explorer Sport model, in particular, comes with adaptive cruise control and automatic braking technology, which can intervene when an accident is imminent to prevent it from happening.
Interior Features
The interior of this vehicle is also very friendly and suitable for many drivers across Kaneohe. It has synthetic leather on the dashboard as well as for trim that accentuates its impressive design. The overall fit and finish are very pleasing to the eye.
Exterior Features
The exterior design of the Explorer is what makes it such an attractive vehicle. It is very sleek and stylish. This car comes with all sorts of features, including dual exhaust pipes, fog lamps, and alloy wheels that give it its sporty look.
Other Features
The Ford Explorer can be used for plenty of different situations. For example, if you are a hunter and need to go off-road, this car comes with plenty of features that can help you do so. These include four-wheel drive capabilities and the fact that it has a unique approach angle (this refers to how steeply you can drive up an incline before your front wheels get stuck and the car cannot go any further).
This SUV has lots of storage space as well. It comes with eight cup holders, which is pretty impressive for a vehicle of this size. You also get a lot of trunk space with this SUV. The rear seats fold down to provide additional storage room. Overall, this new Ford SUV has lots of space to store all sorts of items that you would want to take with you on your travels.
Visit Windward Ford of Hawaii To Learn More
If you are looking for an affordable midsize SUV in Kailua, then the Ford Explorer is an excellent option to consider for Aiea drivers. It's a stylish model, and it comes with plenty of features, including the technology you need to make your travels easier and more enjoyable.
Windward Ford of Hawaii

725 Kailua Road
Kailua, HI 96734